Model 1877 :: The Crossfire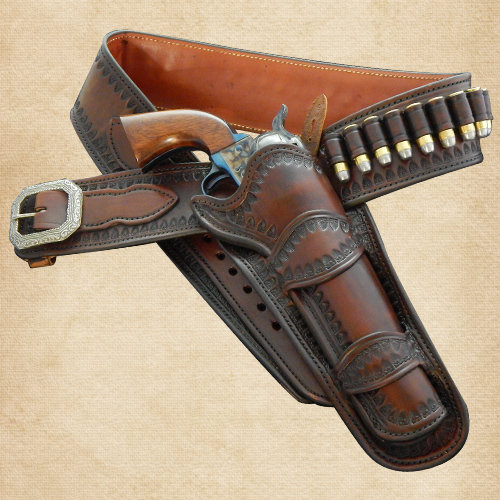 The crossdraw style holster was a frontier period favorite for mounted riders. The comfort and easy access to heavy, long barreled six guns was favored by cowboys and all other horseback mounted riders that spent long hours in the saddle.
The Crossfire model is fully leather lined, saddle stitched and finished in an antique, old world hand rubbed chestnut color. A matching cartridge belt has cartridge loops centered in the middle of the back so that a second straight-hang holster can be added.
The belt and holster are hand-stamped in a discrete border design for an upscale look. Offered with either the Gunfighter, or Powder River Buckle. Holster $250 Cartridge Belt $295 Full rig $545 Fancy border stamping subject to change at makers choice.