Model 1877 :: The Crossfire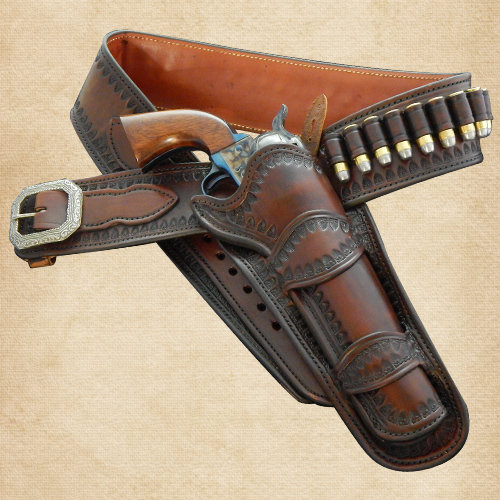 The crossdraw style holster was a frontier period favorite for mounted riders. The comfort and easy access to heavy, long barreled six guns was favored by cowboys and all other horseback mounted riders that spent long hours in the saddle.
The Crossfire model is fully leather lined, saddle stitched and finished in an antique, old world hand rubbed chestnut color. A matching cartridge belt has cartridge loops centered in the middle of the back so that a second straight-hang holster can be added.
The belt and holster are hand-stamped in a discrete border design for an upscale look. Offered with either the Gunfighter, or Powder River Buckle. Holster $250 Cartridge Belt $295 Full rig $545 Fancy border stamping subject to change at makers choice.

VIEW THE 2017 CATALOG
Click on the link above to view our interactive online version of the 2017 John Bianchi's Frontier Gunleather Catalog. Flip through the pages and see our newest products as well as our classic favorites.
For any questions or to place your order be sure to contact John Bianchi's Frontier Gunleather today at 760-895-4401!
Click here to download the catalog (18 mb)
---

WE'VE MOVED!
Our new street address is 71418 Highway 111 Rancho Mirage, CA 92270. Our phone number is going to remain the same at least for a few months as 760-895-4401.


We are in a larger space allowing us to continue to grow with the demand for our high quality leather holsters and other firearm related leather merchandise.


Stop by if you are in the neighborhood to say "Howdy." (Pardon the mess we have for a week or so...)


Photos of the new location will be posted soon.
---
Three generations of shooters have faithfully come back, year after year for John Bianchi's premier Gunleather.
When asked Why? - The answer is simple.
Quality and reliability, before and after the sale coupled with unique, time tested designs have earned John Bianchi, founder of Bianchi International and now owner of Frontier Gunleather the title, "The Godfather of Gunleather".
Known throughout the world for over half a century as the "Standard by Which all Gunleather is Judged", the unique Frontier Gunleather shop is the only full service maker of belts, holsters and accessories for shooters who demand the very best!
| | |
| --- | --- |
| All of our premium full grain leather is tanned to our specifications that were established more than 40 years ago. | |
| | All patterns and designs are Bianchi originals and have continually been refined over many years. |
| Our unique hand rubbed finishing process is exclusive to our shop. We only use premium oils, waxes, stains and polishes to produce the antique, burnished old world finish. We do not use prefinished leather or dyes like other makers. | |
| | All our own buckles and hardware are handpicked from the best suppliers in the world. |
| Our high performance "Lock Stitch" sewing machines, use a heavy duty special thread, insuring a tight stitch and long life for all of our products. | |
| | Each order is handmade, one at a time, specifically for each customer according to his specifications and delivered in approximately 21 days! No other custom shop can match us for delivery time. |
| Most holsters are fully leather lined with smooth leather to preserve your firearms finish. | |
| | Every holster is hand molded insuring a precise fit. Our craftsman are also shooters and they know how to properly fit YOUR gun to the holster you order! |
| Because we are truly a CUSTOM shop, we can work with each customer individually to create the exact rig desired. | |
Frontier Gunleather promises to offer you a unique experience in purchasing your Gunleather rig. We have the craftsmen, tools, equipment and experience of a large custom shop, while offering the personal customer service and customization of a small shop.
---
JOHN BIANCHI'S FRONTIER GUNLEATHER CELEBRATES 55 YEARS IN THE HOLSTER MAKING INDUSTRY!!!
Marks historic anniversary with the release of their largest catalog ever and the debut of a dramatic new look on their website which will feature new and improved navigation.
John Bianchi, the founder of Bianchi International and current owner of Frontier Gunleather has been innovating and producing the finest Gunleather in the industry for 55 years. The custom holster shop is unmatched in its ability to craft one of kind, handmade holsters and belts for the discerning Gunleather buyer.
With the release of this catalog they have given their customers the widest range of holsters and belts available in the custom leather holster industry. While additionally offering more color, stamping and buckle choices than any other maker can offer. The catalog features everything from the finest western Gunleather rigs available anywhere to rigs designed specifically for the outdoorsman who needs durability and dependability above all else.
Frontier Gunleather's website is another example of this company's desire to serve their customers better.
This website showcases all of the many items offered in their catalog in a new easier to navigate and access format. Search for Western rigs, or modern or conceal carry without scrolling through too many items.