Frontier Gunleather's very popular "Vulcan" holster is now available for your favorite carry revolver. The "Vulcan" is an update to the classic Bianchi original Askins Avenger style holster. The modest carry angle keeps the gun balanced and snug against the body. Available for most small and medium frame revolvers. Shown with upgraded smooth leather lining in a saddle tan finish.
Bat Masterson was a dapper dressed gambler, gunfighter, lawman, and contemporary of Wyatt Earp and Doc Holliday. Bat Masterson was known to prefer a small discrete cross draw holster for the 4 ¾" barreled Colt Single Action Army he ordered special from the Colt factory.
The cross-draw style holster allowed quick access from a seated position at the card tables where Bat was frequently found."Available in Black or Brown with optional matching belt and 6 loop cartridge slide.
Holster $165
Matching 1 ½" belt with Hardin buckle $105
6 loop Cartridge Slide $65
The new Doc Holliday Shoulder rig is reminiscent of the early styles from the 1880's. Designed for large pistol models from the frontier period of the old west. This style shoulder outfit is not designed for concealment, but to comfortably carry a heavy pistol. A perfect addition to period reenactors. $235
Model 1872 :: The Mexican Loop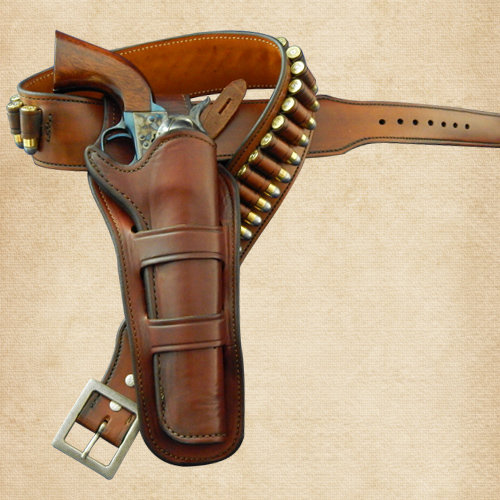 The Mexican Loop style holster is regarded as the origin of frontier period holsters for the new cartridge revolvers of the 1870's. This reproduction model is a faithful re-creation of the most popular style from the American West. Fully leather lined and saddle stitched, wet molded for your revolver and available for all large frame single action revolvers.
Offered in a plain finish only.
Holster $215
Belt $195
Model 1877 :: The Crossfire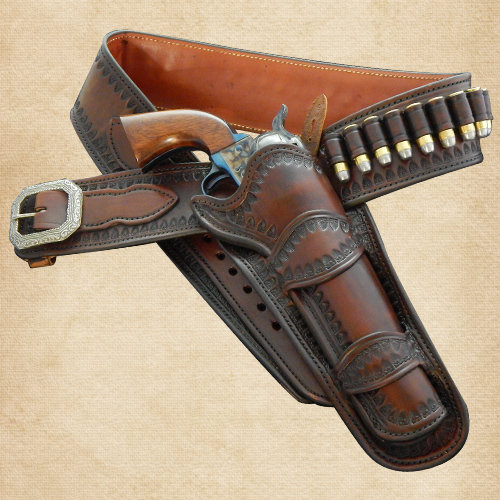 The crossdraw style holster was a frontier period favorite for mounted riders. The comfort and easy access to heavy, long barreled six guns was favored by cowboys and all other horseback mounted riders that spent long hours in the saddle.
The Crossfire model is fully leather lined, saddle stitched and finished in an antique, old world hand rubbed chestnut color. A matching cartridge belt has cartridge loops centered in the middle of the back so that a second straight-hang holster can be added.
The belt and holster are hand-stamped in a discrete border design for an upscale look. Offered with either the Gunfighter, or Powder River Buckle. Holster $250 Cartridge Belt $295 Full rig $545 Fancy border stamping subject to change at makers choice.