55 years in the Gunleather Industry
Voted Best Gunleather, True West Magazine
Every John Bianchi rig is a handmade work of art, giving each outfit its own personality. From among the wide array of styles and selections offered, you choose your own combination of design, finish and particular details to suit your particular preference. Your custom made holster will be wet molded to the actual model of the gun it will hold, and the beautiful, hand rubbed finishes are the true signature of a Frontier Gunleather gunbelt holster.
The unique, compact design of the "Rascal" features adjustable tension devices that allows the wearer to adjust the retention pressure to suit your preference. The holster rides high, with "FBI" forward tilt for quick access and maximum concealment. Fully leather lined and saddle stitched. Available for small frame revolvers, and most small to medium frame semi-autos.
Black or brown, made to fit 1 ½" belts.
$85.00
Bat Masterson was a dapper dressed gambler, gunfighter, lawman, and contemporary of Wyatt Earp and Doc Holliday. Bat Masterson was known to prefer a small discrete cross draw holster for the 4 ¾" barreled Colt Single Action Army he ordered special from the Colt factory.
The cross-draw style holster allowed quick access from a seated position at the card tables where Bat was frequently found."Available in Black or Brown with optional matching belt and 6 loop cartridge slide.
Holster $165
Matching 1 ½" belt with Hardin buckle $105
6 loop Cartridge Slide $65
The new Doc Holliday Shoulder rig is reminiscent of the early styles from the 1880's. Designed for large pistol models from the frontier period of the old west. This style shoulder outfit is not designed for concealment, but to comfortably carry a heavy pistol. A perfect addition to period reenactors. $235
Model 1872 :: The Mexican Loop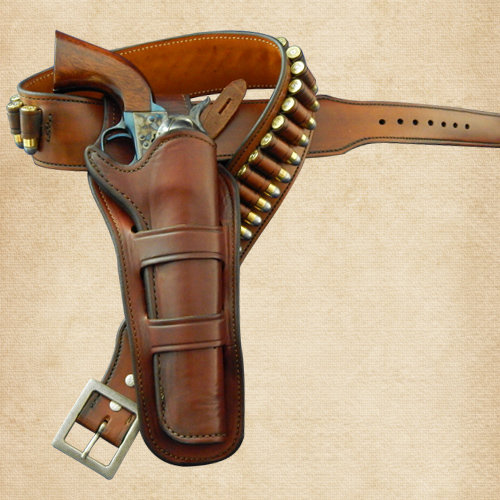 The Mexican Loop style holster is regarded as the origin of frontier period holsters for the new cartridge revolvers of the 1870's. This reproduction model is a faithful re-creation of the most popular style from the American West. Fully leather lined and saddle stitched, wet molded for your revolver and available for all large frame single action revolvers.
Offered in a plain finish only.
Holster $215
Belt $195